Posted so everyone can see how our USMC leadership are concerned with the health, safety, and welfare of their so-called Marine Corps family! Draw specific attention to the names of Majors Eby and Miller at the end of the argument. They never once addressed the requirement in the 1963 BUMED INST. 6240.3B nor the 1972 BUMED INST 6240.3c to test for "total organics (CCE)" nor the Navy's own MCL of 200ppb and 150ppb respectively for "total organics." All of the chemicals found in Camp Lejeune's drinking water were in fact "organic chemicals" which would have been identified if the officials had followed their own Naval directives/standards!



hnn.us: 06/30/2014 "....The Federal Government's Scandalous Treatment of Veterans (No, Not THAT Scandal. Yet Another One.")

Semper fi, Always faithful Wins Ridenhour Award

Rep. Maloney asks DOD for clarification on implementation of new non-security FOIA requirements

Rep. Brad Miller looks for compensation for victims in Camp Lejeune case

Ohio family looks to Camp Lejeune for answers

MSNBC to feature Lejeune water documentary

MSNBC Water film airing on Camp Lejeune

Camp Lejeune water leaves trail of disease

Senator Burr's press release on CL and TCE Risk Assessment

Semper Fi searching for answers at Camp Lejeune PBS


Joseph Moser, Marine. Died: Aug. 8, 2011 of ALS

Hagan amendment to S1253:National Defense Authorization Act

Hagan amendment Report Language

Camp Lejeune Water Contamination Bill Would Provide Healthcare to Affected Marines

Lejeune water documentary receives standing ovation

Senate committee approves legislation to help Lejeune vets

Jerry Ensminger recent Lejeune interview MP3

Camp Lejeune Marines Get Documentary on Water Contamination

National, State Groups Back Health Care for Camp Lejeune Vets, Families

Agency begins comparative survey to understand issues from Lejeune's contaminated water

National Journal Daily: An Angel's Rainbows

Variety Reviews 5/11/2011 - "Semper FI" Documentary

Ex-Marine's tale captivates Tribeca

Retired Lady's Island Marine with preleukemia among the million seeking answers

Janey Ensminger Act to Care for Camp Lejeune Families Reintroduced - Salem News


US reps Brad Miller and John D Dingell reintroduce the Janey Ensminger Act to care for Lejeune families - 05/05/2011
Senators question Navy's transparency about Lejeune water

5 Congressional Members send USMC a letter

Camp Lejeune Documentary Featuring Winter Haven Resident Showing at Tribeca

Senate to hear of Cancer Clusters

"Semper Fi, Always Faithful" Documentary Premier news

Baby Heaven Cemetery in Jacksonville, NC

North Carolina Senators weigh-in on Lejeune water case

Senator Hagen writes the VA (Feb 2011)

Senator Burr reintroduces S1518

ATSDR 14 Jan 2011 Letter to the Navy and email to Mike Partain.

Poisoned patriot, Michael Maita, succumbs to cancer.

Fed scientists dispute Marine Corps booklet

Former Marine files federal lawsuit over Camp Lejeune water

Video News: Camp Lejeune water raises concerns

Two things they had in common — cancer and Camp Lejeune

Marine base cancer concerns bring hundreds to Tampa

Marine Corps' camp may have cancer link for Bay area vets

Camp Lejeune Informational Webinar

Daughter's death drives Marine's long quest for answers about tainted water...

Camp Lejeune Contamination group to meet in Tampa on January 15th.

Burr, Hagan moved against Defense Bill

Advocates push cause of Camp Lejeune Water Contamination in Congress

Cancer survivor makes advocacy 'a second job'

VA begins tracking Camp Lejeune claims

6 linked by Camp Lejeune History, Illness

Ponte Vedra Marine, poisoned during service, finally receives full ...

Judge refuses to dismiss Camp Lejeune water exposure lawsuit

Order Denying Motion to Dismiss in Jones Case

Letter from ATSDR to Shregardus and Panter 10.22.10

Lubbock veteran believes his cancer is linked to contaminated water at military base

Congressional hearing examines past, future of Camp Lejeune toxic water vets

Science and Technology Hearing re: Camp Lejeune Contamination and Compensation

Hearing on Camp Lejeune Water — North Carolina Public Radio WUNC

Congressman criticizes military leaders over toxic water at North Carolina's Camp Lejeune

Contact Rep. John Boehner's Office ASAP

Minority Views of Ranking Member Richard Burr

2010 USMC Camp Lejeune Informational Brochure

Memorandum of Understanding Between ATSDR Public Health Service & DoN on Public Health Activities at Marine Corp Base Camp Lejeune

Marines shoot calendar for male breast cancer research

Virginia Beach Camp Lejeune Meeting Saturday July 17th

Victims of toxic Camp Lejeune water meet up to network out

Marines fight for help after years of bad water

Another Lejeune vet gets VA disability related to contaminated water

Pair scouts for others exposed to toxins at Lejeune

Camp Lejeune Informational Meeting-Virgina Beach, VA-Saturday July 17, 2010-11:00-3:00

Persistence urged in filing claim

Documents: Tanks leaked fuel near Camp Lejeune well

House panel investigating Camp Lejeune water contamination

VA quietly giving benefits to Marines exposed to toxic water

Camp Lejeune Informational Meetings - Salem-News.com

Today in Insight

Congress pushes military for data on tainted water

Bill would force all tainted water documentation to be turned over

Members Hail House Action to Obtain Answers for Our Camp Lejeune Military Families Exposed to Toxic Water

Congress pushes military to release data on Camp Lejeune water

Senator Burr Comments- 05.28.10

Congress pushes military for data on tainted water

Bill would force all tainted water documentation to be turned over

Members Hail House Action to Obtain Answers for Our Camp Lejeune Military Families Exposed to Toxic Water

Congress pushes military to release data on Camp Lejeune water

The word is out- Our environment can cause cancer

Mr. President, what if you had lived aboard Camp Lejeune?

Agency finds TCE to be human carcinogen

VA alerts cancer patient to possible Lejeune water link

Report to president links cancer, Lejeune contamination

VA Powerpoint Presentation from CAP Meeting (PDF format for ease of viewing)

I-Team: Camp LeJeune Residents To Demand Answers

Community panel meets today on contaminated water issue

Marines accused of muzzling Camp Lejeune criticism

13 parents on one street lose newborns

Lejeune ignored warnings

Warnings about Lejeune's tainted water unheeded for years

Camp Lejeune water contamination timeline

Lejeune mother still mourns loss of three daughters

Breast cancer study includes former Lejeune residents

Veterans Input Needed on Environmental Breast Cancer Study

A Camp Lejeune Tragedy

All of them, survivors

Is the Marine Corps withholding Camp Lejeune documents?

VA ruling on former Marine's illness may affect thousands

Water full of benzene, and officials knew it

Military Admits Fault in Water Contamination

A bit of hope for sick Camp Lejeune veterans after VA agrees to pay benefits for one

Latest in water contamination investigation being dubbed a typo

Congress seeks more records on tainted Camp Lejeune water

Probe of Lejeune water contamination continues

Gov't Links Marine's Cancer To Base's Toxic Water

Toxic Tap Water: Fight for Answers Continues

Contaminated water at base the cause of Hanover Marine veteran's cancer

Lejeune veteran receives full disability on contaminated water claims

Investigators seek data on Lejeune water

Congressional investigators seek data on Camp Lejeune water contamination

Congress must insist on full accounting for Camp Lejeune health issues

Former resident of Camp Lejeune can move ahead with claim over toxic water

Suit over toxic water at NC base set to continue

Editorial: In Camp Lejeune water fight, bipartisan effort gets results

Navy to fund studies on contaminated water at Camp Lejeune

Agency says military base water tainted

Navy agrees to fund water study at Lejeune

Fed probe urged on cancer chemical in Marine water

Report on Marines' water omitted cancer chemical

Danger of Marines' water removed from report

Marine base's ex-residents, many ill, only now learning of toxic water

Marine Corps Busted Over Benzene Contamination at Lejeune

I-Team: Camp LeJeune Water Findings Pt. 2

Lejeune water study stalled

Report On Marines' Water Omitted Cancer-Causing Chemical, Review Says

Lejeune water study stalled

Navy, Marines turn backs on Lejeune families

Around the Capitol

Congressional Tug-of-War Over Veterans' Healthcare?

Senate falls short in serving veterans

SC17 Investigation: The Few, The Proud, The Forgotten (3 videos- top right of page)

Lejeune amendment signed into law as part of defense funding bill

I-Team: The Few, The Proud, The Forgotten Part II

U.S. Defense Appropriations Bill expected to pass Senate

Burr, Hagan encourage Navy to fund Lejeune water study

Hagan, Burr: We want more studies into tainted water at Camp Lejeune

Agency overseeing toxic substances urges Navy to fund study of water at NC Marine base

Senators push $1.8M for Lejeune contamination research

Florida senators urge mortality study at Camp Lejeune

Senators support mortality study on Lejeune water contamination

Navy to fund Lejeune water contamination studies

I-Team: The Few, The Proud, The Forgotten?

Camp Lejeune vets, check toxic clues

400 Michiganders join list tied to bad water at Camp Lejeune

Vets: Contract lead to tainted research

Marine families deserve better

Marines use statistics to fight image war over cancer cluster

Letter to Dr. Cicerone from Subcommittee on Investigations & Oversight

Marine Corps fails to disclose financial ties behind controversial report

Drinking Water at Camp Lejeune Work Statement

Taking on the Military

Letter from Congressmembers to Secretary of the Navy

Congress to Navy: Assist Lejeune Veterans & Dependents

Local Man Speaks Out

Retired Marine links cancer to tainted water

Breast cancer can also strike men

Progress is Finally Being Made for The Sake of Camp Lejeune Victims

Marine Wins Battle Against Camp Lejeune's Toxic Water

Concerns arise over children adopted during Lejeune water contamination

Group worries for adoptees from Lejeune area

Advocates Want to Open Adoption Records for Children Adopted from the Jacksonville Area

Report: USMC knew of tainted wells

Camp Lejeune Water contamination history detailed in documents

Camp Lejeune Water Contamination Interactive Timeline

Iron Mountain vet wants to spread word about base's polluted water

Breast cancer: A Marine's biggest battle

Former Marine Battling Male Breast Cancer

Camp Lejeune Water Contamination on NBC Nightly News Video

Camp Lejeune Contaminated Water Hearings In Washington D.C.

Camp Lejeune Families Speak to Senate

Man with breast cancer testifies that he blames Marine base

Purposeful Deceit? The One-Breasted Marines from Camp Lejeune

Senate Committee holds hearing for Lejeune water contamination

Panel hears testimony on toxic substances at U.S. military facilities

40 men from Camp Lejeune now report breast cancer

High density of male breast cancer raises eyebrows

NC's Hagan backs amendment on Camp Lejeune water

Camp Lejeune Tainted Water Update

Senators fight for victims of Camp Lejeune toxic water

Amendment prohibits disposal of contamination claims

It can happen to men, too: North Andover's Peter Devereaux fighting breast cancer

Marines Endangered By Water Contamination At Camp Lejeune: Male Breast Cancer

Former Lejeune residents talk about water contamination on Montel show

CNN Video Part 1 (Thursday, 24 Sept. 2009)

CNN Video Part 2 (Friday, 25 Sept. 2009)

Senator Burr Comments on Caring for Camp Lejeune Veterans Act of 2009- News from Washington, D.C.

N.C. Senators looking for answers on Camp Lejeune toxic tap water- WNCT

Poisoned Patriots?-CNN with Campbell Brown

Male breast cancer patients blame water at Marine base- CNN Health

Poisoned Patriots? Male Breast Cancer Patients Blame Water At Marine Base

CNN to air special on Camp Lejeune water contamination

CNN Airs News Story on Male Breast Cancer at Camp Lejeune

Camp Lejeune and Male Breast Cancer

Bipartisan Heat- News & Observer

Lawmakers to Discuss NC Base Water Contamination- Sun News

Senators: Dig Deeper on Lejeune Water Study- News & Observer

What was in Marines' water?- Detroit Free Press

Senator Harkin Responds to Poisoned Patriots Investigation- KGAN

Caring for Camp Lejeune Veterans Act of 2009

20 From Camp Lejeune Marine Base Developed Male Breast Cancer, Blame Toxic Water

Camp Lejeune Residents Blame Rare Cancer Cluster on the Water- LA Times

Poisoned Patriots- 2 News KGAN

Local Family in Fight After Toxic Water Exposure at Camp Lejeune- 12 News WKRC

Caring for Camp Lejeune Veterans Act of 2009

20 From Camp Lejeune Marine Base Developed Male Breast Cancer, Blame Toxic Water

Camp Lejeune Residents Blame Rare Cancer Cluster on the Water- LA Times

Poisoned Patriots- 2 News KGAN

Local Family in Fight After Toxic Water Exposure at Camp Lejeune- 12 News WKRC

Multimedia Environmental Simulations Laboratory- MESL Website

NC's Hagan Backs Bill on Camp Lejeune Water

Bill proposes VA care for 'Poisoned Patriots'

NC Senator Introduces Bill on Lejeune Water- WCNC

NC Senator Introduces Bill on Lejeune Water- WITN

Camp Lejeune Vet Presses Contaminated Water Case

Former Lejeune Resident Files Lawsuit Over Contaminated Drinking Water

Suit Filed Over Contaminated Water at NC Base

Lawsuit Claims Government Exposed Marines to Toxic Drinking Water in Past at NC Military Base

Lawyers File Suit Over Water at NC Base

Now 17 veterans with rare cancer or tumors with Camp Lejeune ties

The Pentagon's War on America: The Marines Part III

The Pentagon's War on America: The Marines Part II

The Pentagon's War on America: The Marines Part I

DCBureau.org Launches with Investigations of Pentagon Mistreatment of Marine Corps Families

Male Breast Cancer and Camp Lejeune: Pollution or Coincidence?

Polluted Patriots on Living on Earth (NPR broadcast this upcoming week)

NC senator wants hearings on Lejeune water issues

Press Conference on Water Contamination at Camp Lejeune Video

Water toxins, health issues hard to link, researchers say

Report: No evidence of relationship, association between water contaminants and health conditions

Lejeune water study finds no definite disease link

Attendees voice opinion on NRC report about contaminated water

NRC briefing on Camp Lejeune contaminated water set for Saturday

Marines, families warned of water contamination

Local Ex-Marine Spreads Word About Camp Lejeune's Once-Toxic Water

Can Region Afford More Water Risks?

Marine Battles Over Contaminated Lejeune Water

Camp Lejeune Vets Suffer From Drinking Water Contamination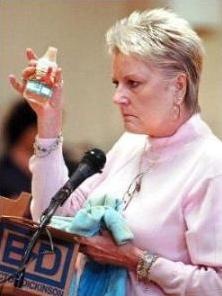 Senator Burr Statement on the Water Contamination Investigation at Camp Lejeune

Senator Burr Weighs In On Camp Lejeune Water Study

Federal Health Agency Misled on Dangers from Poisoned Drinking Water at N.C. Marine Base

Cancer Risk for Some Lejeune Marines

Camp Lejeune Marines Subject to Cancer- Report Reversed

Chemical Exposures at Camp Lejeune

US does about-face on Camp Lejeune's tap water

US can't vouch for cancer assurances to Marines

Key events in Camp Lejeune's water contamination

Feds disavow toxic water study on Marine base

US officials recognize bad water at Camp Lejeune

ATSDR pulls report; will there be others?

Congressional Investigators Say Toxic Military Base Health Hazards Were Overlooked

ATSDR Withdraws Scientifically Flawed Public Health Document

Federal Health Agency Reverses Stance On Camp Lejeune Water Contamination Findings

Panel Probes Lejeune's Contaminated Water

Panel to discuss Lejeune contaminated water issue

Report on cancer risk discredited

Marine Corps hope to reach ex-Lejeune residents about tainted water

Former Camp Lejeune Residents Sought

Local Marines Respond to Camp Lejeune Story

An Invisible Epidemic: The far-reaching, untold effects of contaminated water in Jacksonville, N.C.

Male Breast Cancer & Camp Lejeune Water Contamination

Marine Corps League Minutes (Mike Partain was a speaker)

Mike Partain's Interview on WFLA 970AM on 12.03.08 (scroll down to 6:46am est)

Military Searching for Camp Lejeune Marines Due to Health Risk

A Few Good Men, Lots of Chemicals

Dan Rather Reports on Camp Lejeune Toxic Water Contamination

Camp Lejeune Water Study Continuing

Concerns About Camp Lejeune Drinking Water Still Haunt Marines

Senator McCain, Camp Lejeune & the Marines He Turned His Back On

Marine Veteran Notified of Polluted Water Threat

Camp Lejeune Contamination- WSIL-TV

Lejeune Water Contamination Bill Could Force EPA to Establish Public Standard

McCain Breezes Through Bay County

McCain Visit Attracts Demonstrators

Senate Committee Approves Bill to Protect Against TCE Contamination

The Few. The Proud. The Forgotten?

EPA System for Evaluating Chemical Risk Said To Be Broken, Affecting Public Health

The Department of Defense (of itself): DOD slows condemning research into its polluting behavior

Former Marine Still Seeking Justice For Those Exposed to Contaminated Water

Congress Holds Hearing on Camp Lejeune Water

Former Marine Testifies in Congressional Hearing on Water Contamination at Camp Lejeune

Former Marine Testifies Over Deadly Contaminated Water at Camp Lejeune

Congress Probes White House Delay of Chemical Assessments

Former Camp Lejeune Marine to Testify in D.C. About Chemicals in Water, Daughter's Death

Retired Marine Set to Testify About Risks of Toxic Base Water

Marine Who Lost Child From Contamination at Camp Lejeune Will Appear in Washington

Study on Camp Lejeune Toxic Water Continues with Navy Money

Money Dispute Threatens Toxic Tap Water Study

Federal Agency Money Bickering Could Spell Doom for Sick Marines

Politics Keeping EPA From Toxin Warnings?

Something in the Water- Water Contamination at Camp Lejeune Pt. 1 Pt. 2

Poisoned at Camp Lejeune, Snookered by Uncle Sam

Government Should Make Good To Military Families

Bush Seeks to Reverse Open Records Move

H.R.1585: FY 2008 National Defense Authorization Act

Law would require Navy to notify those exposed to bad water at Lejeune

Marines Must Tell of Tainted Water

Report: No Abnormal Radiation at Lejeune

How Safe is Water From The Tap?

Government Inaction

State Lifts Advisory for New River

Panel Urges Study of Toxic Solvent Levels

Contaminated Camp Lejeune Water Supply Explained

'We are not just numbers in a study'

Ex-Lejeune Residents Show Water Toxin Effects

Patience Urged Over Water Results From Camp Lejeune

ROUGHLY ONE MILLION ON-BASE RESIDENTS IN CAMP LEJEUNE COULD HAVE BEEN EXPOSED TO CONTAMINATED TAP WATER (About 1/2 down the page)

Contaminated Water Study (About 1/3rd down the page)

Former Lejeune Residents Sound Off As Federal Committee Holds Hearing On Tainted Tap Water

Federal Group Studying Possible Camp Lejeune Water Contamination

Camp Lejeune Water Committee Searching For Link

Panel Probes Claims Camp Lejeune Water Caused Health Problems

Camp Lejeune Homes Untainted, Tests Show

USMC Press Release

Troubled Waters at Camp Lejeune: An Overview

Justice for Janey

Family Attributed Health Problems to Bad Luck, But Now Thinks Lejeune's Water the Source

Water Contamination Forum-Friday, August 31, 2007

SPECIAL COVERAGE: CAMP LEJEUNE

Feds Get Earful From Camp Lejeune Residents

Senator Dole Introduces Bill to Protect Against TCE Water Contamination

Sen. Kerry pushes for chemical probe

Senator would force military to notify US Marines of exposure to toxic tap water

ToxFAQs for Strontium

EPA Investigating Waste at Camp Lejeune

Possible Radioactive Waste Buried at Camp Lejeune

Camp Lejeune Water Pollution, Cancer Link Investigated*

Democrats stepping Up Scrutiny Of DOD Environmental Compliance (3 pages) Page 1 Page 2 Page 3

Hearing on Lejeune water revives fears

23 military bases have contaminated water

Interview with Dr. Michael Gros, a victim of water contamination at US Marine base

Camp Lejeune Water Under Scrutiny (with clips of testimony and picture slideshow)

House Panel Probes Water at Marine Base

Decades of Military Families Drank Toxic Water

N.C. Marine Camp's Water Under Scrutiny (Also In Charlotte Observer with pictures)

Ex-Marine's Say Base's Water Made Families Ill

Solvents in Water Present Perils

Family Battles Marine Corps For Health Problems

House Investigating Camp Lejeune Water

Dems Ready Base Contamination Probes Page 1 Page 2

Letter written by Jerry Ensminger to the Commandant & Dr. Frumkin Page 1 Page 2 Enclosure

E-mail from Malcolm Woolf

Public Meeting

ATSDR Media Announcement

ATSDR Response to the Report of the Camp Lejeune Scientific Advisory Panel Held February 17-18, 2005

Camp Lejeune, NC: Release of Advisory Panel Report on potential for further health studies

Minutes from the ATSDR Expert Panel Meeting- February 17 18, 2005 are now available here.

Study On Contaminated Water Due In December

Local man part of national action against U.S. military

July 27, 2006 LA Times

July 27, 2006 Stories That Matter

July 28, 2006 Jacksonville Daily News

Vets Claim Toxic Water at Military Camp

Searching for Answers at Military Camp

WBAL June 29, 2006

Help for Military Families Exposed to Chemicals

WKRC-12 June 23, 2006

Jacksonville Daily News, June 24, 2006

Cancer Stalks a 'Toxic Triangle'

LA Times, Ralph Vartabedian, March 30, 2006 Part 2 of 2

"How Environmentalists Lost the Battle Over TCE"

LA Times, Ralph Vartabedian, March 29, 2006 Part 1 of 2

Water details trickle- July 11, 2005, The Daily News, Jacksonville, NC

Live, work at Lejeune between '68 and '85?- July 2, 2005, The Charlotte Observer

Pentagon Seeks Waivers On Environmental Rules- May 11, 2005, The Washington Post

Experts mapping poisons in base waters- March 29, 2005, The Daily News, Jacksonville, NC

Letters to the Editor- February 25, 2005, The Daily News, Jacksonville, NC

Camp Lejeune Background- As provided by the ATSDR

NCEH/ATSDR To Host Meeting To Determine Need For Additional Studies At U.S. Marine Corps Base Camp Lejeune, N.C.- December 21, 2004, ATSDR Press Release

Troubled Waters: The Toxic Legacy of Camp Lejeune's Contaminated Water Supply- August/September 2004 Issue, The VVA Veteran

GAO Says DOD Is Failing To Sample and Clean Up Military Munitions- June 30, 2004, News Release, U.S. Congress

Panel Wraps Up Hearings- June 26, 2004, The Daily News, Jacksonville, NC

Families Testify About Tainted Water At Camp Lejeune- June 25, 2004, WECT, Wilmington, NC

Residents Want Broader Investigation in Lejeune Water Contamination- June 25, 2004, WWAY, Wilmington, NC

Lejeune Water Panelist Resigns- The Daily News, Jacksonville, NC, May 19, 2004

Lejeune Families Angry at Toxic Water Investigators- May 11, 2004, WECT, Wilmington, NC

Families Seek Answers About Contaminated Water at Camp Lejeune- May 10, 2004, WRAL, Camp Lejeune, NC

Commandant's Panel Begins Water Investigation- May 102004, WNCT TV 9, Greenville, NC

U.S. Senate Committee on Armed Services Press Release- May 7, 2004- Bottom of page 8 and top of page 9 are most pertinent to victims from MCB Camp Lejeune

County OKs Water Lease- The Daily News, Jacksonville, NC, April 21, 2004

Subcommittee on Energy and Air Quality Subcommittee on Environment and Hazardous Materials Joint Hearing on "Current Environmental Issues Affecting the Readiness of the Department of Defense- Statement of Congressman John Dingell, Ranking Member Committee on Energy and Commerce, April 21, 2004

Current Environmental Issues Affecting the Readiness of the Department of Defense- The webcast should be available shortly.

Congressman Questions Marines- The Daily News, Jacksonville, NC, April 14, 2004

DoD Again Seeks Environmental Exemptions Despite Its Historic Record of Contamination- News Release, Congressman John Dingell, April 7, 2004

Doctor Paying The Price For School- The Houston Chronicle, Houston, TX, April 6, 2004

Lejeune Panel Gets Outsiders- April 4, 2004, The Daily News, Jacksonville, NC

Fox News Channel 5, Washington, D.C.- Script from Ensminger Interview (Only the script is currently available) Page 1 Page 2

Toxic Water- KXLY Channel 4, Spokane, WA (video link) Click here for a more complete script of the Townsend's Interview.

Panel in Camp Lejeune Water Probe Criticized- The Washington Post, March 12, 2004

Base Panel Rapped- The Daily News, Jacksonville, NC, March 12, 2004

Letter to General Hagee, USMC, Re: Superfund- March 3, 2004, Congressman Dingell

Marine Corps Panel to Review Camp Lejeune Water Controversy- March 2004, U.S. Water News Online

Symposium on New Scientific Research Related to the Health Effects Trichloroethylene- February 26-27, 2004, Washington,D.C.

Toxic Water- WALB Channel 10, Albany, GA, February 27, 2004

Senator Edwards Welcomes Independent Panel Investigation of Water Contamination at Camp Lejeune- February 26, 2004

Marines Brief Congressional Staff- The Daily News, Jacksonville, NC, February 24, 2004

EPA Asks Experts To Weigh Danger Of Solvent TCE- The Wall Street Journal, February 23, 2004

Marines to Probe Pollution Case- The Washington Post, February 2004

Corps Steps Up Base Water Probe-February 21, 2004, The Daily News, Jacksonville, NC

Panel to Review 1980-1985 Camp Lejeune Water Problems- WGAL Channel 8 News, Lebanon, PA, February 20, 2004

Marine Corps Panel to Review Camp Lejeune Water Controversy- NBC 17 News, Raleigh, NC, February 20, 2004

Commandant Appoints Panel to Review Camp Lejeune Water Contamination- Channel 13 WVEC, Hampton Roads Military News, February 20, 2004

Senator Jeffords' Statement on Marine Corps Camp Lejeune News Release- February 20, 2004

Commandant Appoints Independent Panel to Review Camp Lejeune Water Contamination Events- Press Release- Public Affairs Office, Headquarters Marine Corps, February 20, 2004

Women Attributes Health Problems to Marine Base Water- WGAL Channel 8 News, Lebanon, PA, February 18, 2004

Learn About Contamination- Public Opinion, Chambersburg, PA, February 18, 2004

Pentagon Delaying Notices- The Daily News, Jacksonville, NC, February 16,2004

Local Families Getting Help with Tainted Water Case- WKRC Channel 12 News, Cincinnati, OH, February 12, 2004

Senator Touts Wider Probe of Base Water- The Daily News, Jacksonville, NC, February 11, 2004

Water Contamination at Marine Base Could Be To Blame For Cancer Deaths- WGAL Channel 8 News, Lebanon, PA, February 11, 2004

"Toxicgate" Killed Families, Georgia Woman Says- WALB Channel 10 News, Albany, GA, February 2, 2004

Tainted Water in the Land of Semper Fi- The Washington Post, January 28, 2004 (Republished in various newspapers)

Water Study Review- The Daily News, Jacksonville, NC, October 29, 2003

Agency to Conduct More Camp Lejeune Water Studies- August 2003, U.S. Water News Online

Vindication and some closure won't bring father's child back- July 17, 2003, The Daily News, Jacksonville, NC

Agency Continues Study of Toxic Water Effects- The Daily News, Jacksonville, NC, November 24, 2002

Tainted Water at Base Blamed- The Cincinnati Post, Cincinnati, OH, October 3, 2002

Man Discovers His Health Problems May Be Attributed To Bad Water- Traverse City Record Eagle, Frankfort, MI, November 12, 2000

Contaminated Fish, Crabs Found- The Charlotte Observer, March 12, 1997 (Must pay to see entire article)

Unsafe Lead Levels in Water Reported- Nutrition Health Review, September 1, 1993

High Levels of Lead Found in Water Serving 30 Million- The New York Times, May 12, 1993

Camp Lejeune Dump Added to U.S. List of Worst Waste Sites- August 8, 1991 (Must pay to see entire article)

Still A Mystery- March 23, 1991 (Must pay to see entire article)

Contaminated Wells Aren't Being Cleaned Up- The Charlotte Observer, September 13, 1989 (Must pay to see entire article)